Miscellaneous Nature type photos on this page include:

A stroll in the backyard 2009
It's autumn and some of the flowers are gone but there is still a lot of activity in the garden.
Left photo above "is this the start of a beautiful relationship?" Center photo shows a simple bee-in-the-rose photo. Right photo shows that two wings and four wings have different hangouts but they basically like the same thing (Aster flowers)
Left photo above shows a different type of bee. Center photo shows a bee in flight at 1/4000th second. Right photo shows a bee that, well drowned in the pool. RIP
Left photo above shows a tiny green fly. Right photo shows a wasp and on a closer look also shows a spider hiding.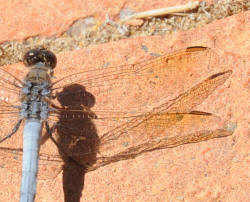 (click to enlarge)
Photo above shows a dragonfly with a nice shot of the shadow of the lacelike pattern on the transparent wings.
Lizard on left talking to lizard on the right: "Yeah, mate. Was flat out like a lizard drinking and woke up legless..."
A juvenile mantis on a Daylilly and my hand.
Warning the pics below are 5 Mb each and not for dialup users.
Left photo above shows an Flowering Aster bush. Can you see the bees?. Right photo shows about 30 bees highlighted in red.