Miscellaneous topics on this page include:

Photography night Feb 09 A group of about 20 photographers and astronomers most of whom came down from Perth visited on 28/2/09. Organised by Phil Arntzen from the Workshop Camera Club. Note that there was a second photographers night with a different group arranged by Bruce Jorgensen in March 2009 on the page Photo Night 2.
I have posted some of the best of the groups shots as well. But first, some of mine.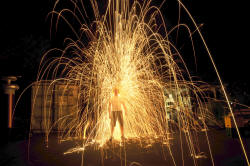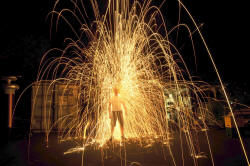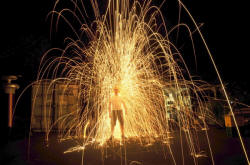 4200, 1000 and 600 pixel wide versions. Click the middle one first!
Below, taken by Bruce Jorgensen
Below, taken by Phil Arntzen
and some by Maureen Griffiths (below)
and Louise Mann below
and Graham Minchin with more here
Lorand Szilagyi who used the rotating colour filter to effect below.
The photo below by Lorand taken from on top of the shipping container gets my vote as photo of the night. It shows the crowd for perspective with the foreground of abundant sparks from the big TC. The sparks come to within about 6 feet of the camera.