This is the internals of a Siemens 120kV x-ray tube head which includes the transformer (not rectified) and a rotating anode under oil sealed and lead shielded. The glass has been removed with the outline shown in yellow. The electron beam is shown in red and the x-rays in purple. The induction motor is outside the glass and works well on 250V with a phase delay with a 1 uF capacitor on the additional windings. The right picture is the filament on the cathode electron gun which I have joined to some glass feed through wire from a neon tube.
Unfortunately the HV winding was open circuit but still gave a 1 inch spark at 100V. I sort of hoped it might do better when I got it under oil but of course it didn't. It was drawing about 5kW to get that 1 inch spark!

Sparks for beginners project 2008
Here is a fast, cheap and generally safe project for beginners for 1 inch sparks with a minimum component count. It uses an ignition coil from a car.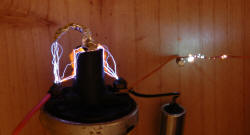 (click to enlarge)
The 3 second photographic exposure above shows 1 inch sparks from this project. Here's what you need.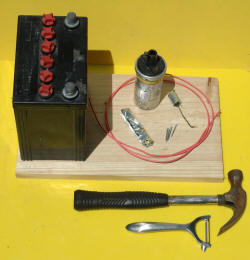 (click to enlarge)
Parts
1: Car battery is simplest and safest but a battery charger might do or a 12 V sealed lead acid (SLA) battery. It will draw about 12 amps with a fully charged battery. The battery should be removed from the car to avoid any risk to its electronics.
2: Ignition coil (from car wreckers for a few dollars). The can type was used extensively in pre 1980's cars and is one part of the Kettering ignition system that this project is based on.
3: Condenser. This is the 1 inch long cylinder with a black wire coming out of it above. This is a part found in the distributor of cars of that era. I bought one new for $13 as the wreckers wouldn't split it from an old $30 distributor. A condenser is an old fashioned name that the auto trade uses for a capacitor with a typical value of 0.22 uF (microFarads). You could substitute a capacitor from your local electronics store rated at 200 V or more with a capacitance of 0.22 up to 1.0 uF which would be cheaper or just experiment. A "greencap" or similar polyester type capacitor seems suitable.
4: Wire. A few feet of almost any type of wire that you can strip the insulation off. Here I have used single strand wire which strips simply with a potato peeler (or use a pocket knife).
5: A few nails of almost any size. Wood screws would do fine too.
6: A small piece of aluminum foil. This is just to stuff down the top of the ignition coil to reach the contact about one inch down the insulator.
7: Wood for the base can be anything you can nail into. Chipboard or laminates are fine
Instructions:
Wind the wire to the various points by just winding a number of turns of the bared wire around each nail or terminal. Do the battery terminal last because this makes it "live".
The left photo shows the wiring layout. The switch (equivalent of the "points" in an ignition system) is the two wires at bottom right. To operate, touch the two wires together. You should see a very small spark where the wires touch. Current is now flowing into the coil and has built up an internal magnetic field. Immediately lift the wire off to break the contact. The collapsing field creates a voltage spike of hundreds of volts which is raised to perhaps 30,000 volts at the output. You will see another spark where the wires were touching, larger this time. In most cases you will see a long high voltage spark from the aluminum foil to one of the terminals. The right photo show a 2 second exposure with several long sparks.
So you have completed it and have made some sparks. But is it safe? Yes and no. A shock from this to is similar to being pricked with a needle. Not pleasant but tolerable. Of course if you jump backward and trip over and hit your head then yes you may do some injury.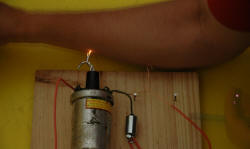 (click to enlarge)
Here is a spark onto my arm. I had to turn on the camera remote and turn on the sparks with my left hand, seen only as a blur in this 2 second exposure. It took about 10 shocks to get a reasonable picture. My right arm receiving the shock will jump involuntarily. That's how muscles work and was discovered by Galvani giving shocks to frog legs. Anyway, I survived unscathed although I probably get more practice than most.
So what can you do with it?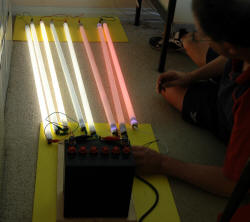 (click to enlarge)
How about lighting up a lot of "dead" fluorescent lights? As you can see, some are more dead than others. Try testing conductivity of various objects like dry then wet wood or plastic. See how well it jumps through paper then thin plastic.
Just a note. High voltage can damage electronic equipment like phones, ipods, TV's and computers. Keep it well away. 30,000 volts will jump 1 inch and 2-3 inches along the surface of insulation.
If you want to progress further to something a little more complicated, try this:
It uses a relay as a vibrator to turn current on and off rapidly to an ignition coil.

The top photo shows the ignition coil and relay running on 12 volts at 5 amps from a power supply, battery charger or car battery. There are only three parts. It uses a relay as a vibrator to turn current on and off rapidly to an ignition coil. The bottom left photo shows a close up of the wiring. The bottom right photo shows the schematic with the capacitor, relay and ignition coil.
The left photo shows the relay with the connection for the coil as the bottom two pins and the other contacts coming out in line. Note the center contact is the one that moves and touches the lower contact in this picture. This is the "normally connected" (NC) pole and is the one used here. The top contact is the "normally open" (NO) pole and is not used here. The right photo shows the ignition coil. These should be available for a few dollars from an auto wreckers.

Parts
1 12V SPST relay (single pole single throw) Can also use DPST (double pole double throw).
2 1 microFarad capacitor (polyester - greencap) over 200V rating. Or a condenser as used above.
3 Ignition coil (from car wreckers)
4 Wood, nails and solder
5 Power supply. Need 12 volt at 5A. Or car battery (take out of car first)

Advantages
Simple
Non lethal but must take care with high voltage.
Parts fairly easily obtainable from different places (Electronics store, Wreckers)

Disadvantages
Draws a lot of power
Not efficient
Will over-heat the coil in long runs
Causes interference to some power supplies.
Relay lifetime will be limited and the contacts will burn out before too long.

I often get people with little experience wanting to make a Tesla coil as a first HV project. Often school kids looking to do a science fair project. I have been very reluctant to encourage Tesla coil building in that age group in view of the lethal nature of the supply. I've often had to point them off to other sites for simple HV projects.
This has been the motivation behind this little project. In fact it was the way I got into HV when I was 14 and I used a multivibrator out of a valve radio set to run two IC's. It is pretty safe and lots to learn and do with nothing really critical.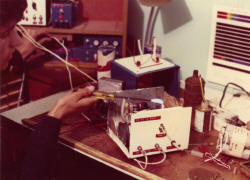 (click to enlarge)
Photo shows the identical circuit running 2 coils in 1972.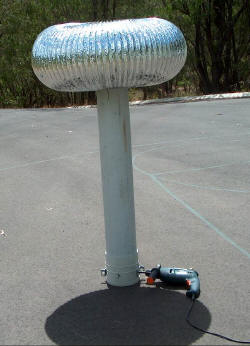 (click to enlarge)
This is a static electricity generator of the type used in displays which make your hair stand on end. It uses 2 inch rubber belt with fibre reinforcing which was the only non black belt I could find (black rubber is slightly conductive). Powered by a variable speed electric drill. Top load is 12 inch ducting. I have tried a 10 kV DC charging spray but there was no improvement over the standard triboelectric static generation. Maximum sparks on a low humidity day are about 2 inches. More work needs to be done. Winter and the increased humidity will put this on the back burner for a while. PVC is not ideal as it does tend to absorb a little moisture and polypropylene is better.

Spiral impulse generator 2008
These are an odd little high voltage generator which are in principle, part Blumlein generator (like the nitrogen laser uses) and part induction coil. They are very simple and compact and very easy to make. They have two copper strips insulated from each other and rolled up like a rolled capacitor. Apply a few kV at one end of both strips and they will charge up. Short circuit one end with a spark gap and a very fast pulse passes in the Blumlein capacitor strips. This will have a magnetic effect as the current in each copper strip (my brain starts to hurt here) will have an additive effect and like current in a coil will result in magnetic induction in the remaining turns of copper strip
The left photo shows the spiral impulse generator generating a 5 mm spark (perhaps 5 kV) from a 1 mm spark gap. The spark gap is between the two electrodes (which are not connected to each other) and the right upper electrode is the one that continues through to the output electrode strip with the longer spark coming off it. The capacitance between the two strips is 900 pF. The right photo shows the 2 kV peak input from a small NST limited by a variac. It is half wave rectified and run through a 1 MOhm resistor. My meter reads peak voltage AC or DC as I have designed it.
The left diagram shows the circuit of the basic spiral impulse generator with two copper strips with a spark gap between them. The are insulated from each other and rolled up. The right diagram shows the version I am using with extended foil. The larger version I try later has equal foils and works better for a number of reasons.
The left photo shows the 1984 patent that this comes from. The center photo shows the start of the copper strip windings separated by polyethylene sheet. The right photo shows the strips of copper foil of 10 x 62 mm obtained as big sheets of 60 cm square from a craft shop. I have soldered two together for the long winding. Hence there are two parallel strips of 4.5 turns and one strip only continues on for another 4.5 turns. It doesn't seem too efficient but I don't really understand the setup enough to know which way to modify it best. I imagine that I could make one with more turns to start.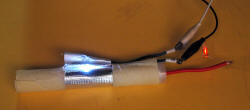 (click to enlarge)
The photo above shows an earlier version that didn't work other than to light a neon pilot. No real idea why, but I tried again with thinner flatter windings.
Now here is a better one.
The photo above shows a beefier version. Specifications:
Output....... bright 1 inch (2.5 cm) sparks (perhaps 30 kV)
Input.......... 6 kV peak. (ie 5 times voltage stepup)
Foil............ Equal length copper foils 4.5 cm x 367 cm plus lead in.
Former...... 4.2 x 7cm. Ext diameter 8 cm.
Turns........ Calculated 20 turns
Spark gap 2 mm
Core......... Ferrrite E cores to fit in 4 cm gap.
Cap.......... 45 nF (prev one was 0.9 nF)
Insul.......... Polyethylene groundsheet

This new version seems to have scaled in spark brightness consistent with 50 times the capacitance and also scaled in output spark length 8 mm to 25 mm consistent with the increased turns from 9 to 20. Construction type was similar and dielectric and input voltage were unchanged.
The capacitor holds its charge well and if discharged with a chicken stick giving a reasonable "zap", will give an output spark as well.
I suspect that for high repetition rates, the use of a multiple segment gap would prevent power arcing.
I also suspect from my experience with TEA nitrogen lasers that the spark gap type and position is critical. The use of a gap with two cylindrical electrodes in continuity with each conductor strip and covering the full width should present the lowest inductance.
As it is, it should be able to be driven much harder than just a few pulses per second, but I am not ready to break it yet. It is arcing over already so any better performance would need to be under oil.

There is discussion on the fusor board. A commercial one is here. Also discussion on the 4HVforum that I started about this. Various patents are here (1979 multiple conductors per layer), here (1996 multiple conductors). Also a sort of simple explanation of how they work here. A Blumlein pulse generator using coax cable is here.

Voltmeter 2004
Using the meter from my old x-ray unit (with a dial reading of 100 kV full scale deflection - FSD for 125 uA), I added a resistor chain (720 M Ohm, 72 M Ohm, 7.2 M Ohm, 800 k Ohm) to allow FSD of 100 kV, 10 kV or 1 kV. The current is full wave rectified at about 100V level with fast diodes (BYV-29 500 Volt, 9 A, 60ns) and is protected by a gas arrester and diodes across the meter itself. A bridge rectifier gives the ability to read DC and mean AC. Voltages up to 1000 V agree with my digital voltmeter to within around 5 % on DC and mean AC 50 Hz. A 30 kV DC power supply seems to read accurately. This is not intended for Tesla type frequencies but it is reasonably non inductive and the diodes are high speed ones. A capacitor divider is needed as well for higher frequencies. All the main workings are behind the acrylic to avoid accidents. Although the resistors have a peak rating of around 100 kV, the spacing between strings is not enough for more than 80 kV before big sparks start jumping everywhere although without damage to the meter..

LED Voltmeter 2008
I needed a high voltage meter able to be seen from a distance at night. Specifically my big cap bank which I wanted to run at higher powers. The cap bank is rated to 12 kV so the meter needed to cover at least that and also be isolated so running off rechargeable battery power.
Above shows the meter reading 13.06 kV using a 30 kV rated HV probe. The leads and switch are at the back. There is some rudimentary HV protection using a neon pilot globe, capacitor and a small toroidal coil in the main lead.

Water resistor 2008
I needed a resistor to handle a moderate amount of power and be adjustable. To do this requires typically large and expensive ceramic resistors. A simple approach is to use water filled plastic tubing with the resistance controlled by the addition of a salt such as copper sulphate. Copper connectors form the electrodes.
The left photo above shows the ends of the 2 m x 10mm tubing with copper tubing connectors and valve to allow air release or to replace the water if it becomes clouded or for a resistance change. The advantage of this construction is that it is not specifically inductive so sparks, like Tesla sparks will not try to jump across adjacent windings. The right photo shows sparks from a 60 kV supply. The resistor was set at 200 kOhms. The heat was enough to cause cavitation either with boiling or electrolysis but it survived fine without leaks.


A DRSSTC (Double Resonant Solid State Tesla Coil) is a must do at some stage.