Tesla Forum presentation 2007
This was organized by the Tesla Forum of Western Australia. I gave the after dinner presentation on Tesla coils.
Hamfest 2007
This was organized by the Northern Corridor Radio Group and is the first one I have been to. I set up my 4 inch TC in the Faraday cage and also ran the mini coil. Liability insurance was arranged through the groups policy for the event. Seemed pretty well attended and I picked up a couple of NST's and bits and pieces when I had a spare moment. Setup time for the cage is still almost 2 hours. There must be an easier way. I tripped a breaker turning off the variac (from zero volts), presumably the RCD. They didn't have the keys to the control panel so had to do some creative work on the hinges to get power back.
Nice to have an audience that understands resonance.
University Open day for Physics Dept 2007
Similar to 2006 with the 4 inch coil in a cage plus the vortex generator. Popular as before. Also used the mini-TC. Getting a lot of mileage from this particularly when people draw sparks to a hand held neon tube. No shocks from the tube setup, but people who want to can have the 2 inch sparks jump onto their hand which does prickle a bit.
Gravity Discovery Center Tesla show 2007
This was a display of my 18 inch coil in a 60 ft wide domed building. Filmed by the Discovery Channel. A sample gallery shows the various effects.
Home open day 2007
This year I sent out a few more invites. This show is mainly for neighbours but in the end none turned up - still there were about 40 people. I put out my usual array of displays including ferrofluid, soldering demos, magnets and small power supplies and lights for the kids, Oscilloscope with microphone attached, lasers including HeNe and green scanner, HV displays of sparks, lifter, small TC, Jacobs ladder, smoke ring generator, CD in microwave and magnetic levitation.
The weather was not in my favour with high winds and intermittent showers but I did get to run the big TC and get some shots of people next to it.
Home open day 2008
This year I aimed to be a bit bigger with better labeled displays and about 70 - 80 people turned up for the show (or was it the free beer?). I had a total of about 50 displays and was assisted by the University Physics Dept who came 200 km from Perth and helped out with the liquid nitrogen and ferrofluid displays.
The left photo above shows that geeks and women aren't mutually repulsive (it lasted 5 seconds before they ran away). From left to right, Sammy, Miranda, Pam, Kerry and me. The technique was to have everyone on place with lights out and TC off. Then the camera flashes but keeps exposing for 5 seconds while everyone runs away and I run to turn the TC on briefly to capture the sparks as well. The center photo shows Cooper, Jessica and me. This was very popular with the kids of all ages and about 30 shots like this with different people were taken. The right photo shows Sam from the Physics Dept with new found powers.
The left photo above shows me holding a fluoro tube. The center photo shows the Dalek cage. Still seems to get the greatest audience response. The right photo shows a dampened 5mm basla rod burning up. Note the chain mail glove and two separate earth wires for redundancy. It would not be good if one fell off and there was no backup.
I had around 50 displays most of which are based on a topic from the website
Big Tesla coil was the feature with sparks up to 6 feet, also Dalek cage, and sparks striking a fluoro tube, string of CD's, burning wood etc
Capacitor bank for can crusher and exploding steel wool
Smoke ring machine
Bernoulli ball with peacock feathers
Bubble machine
Liquid nitrogen for smashing rubber balls, hammering with bananas, demo of Monel metal and the occasional explosion.
Ferrofluid.
Laptops (3) with Videos/Website.
Jacob's ladder
Big electromagnet (80kg)
Pyramid with lights and tunes
Radioactivity with Geiger counter, with Americium from smoke detector, Uranium ore and marbles, Tritium keyring and radium watchface.
Mini Tesla coil
Tesla coil from MO parts
Tesla coil reconstruction from 30 years ago
4 inch Tesla coil (setup as backup)
Lifter and 80kV display
Ignition coil sparks in a Microwave oven.
Simple ignition coil display running from 12V
Microwaving CD's
Ultraviolet light
Blu-ray laser
Helium-Neon 10mW laser
Helium-Neon 1mW laser
Green 5mW laser scanner
Lemon Battery lighting a LED
Homopolar motor
Power transistor as a LED
Spinthariscope
Robotic car
Flashing glasses
Autodose medication delivery device
Power supply from 1971
Model solar car
Magnets to push together
Magnetic film
Magnetohydrodynamic boat
Magnetic array
Magnetic meter
Soldering station
Computer plotter
Aerogel
Plasma ball
Diamagnetic Levitation
Railgun
Coilgun
Capacitor bank 1.5kJ

University Open day for Physics Dept 2008
Similar to the last 2 years with the 4 inch coil in a cage plus the vortex generator. Setup on my own though as my usual assistants/slaves (aka sons) had pressing engagements with girlfriends etc.
Popular as before. Also used the mini-TC. Also ran my videos on a laptop.
Cosmology Gallery opening 2008
This was the opening of the Cosmology Gallery in the Gravity Discovery Center in Gingin. It was covered by 5 TV channels and opened by the then Premier, Alan Carpenter. I provided the "Big Bang" to signify the cosmological relevance . I used my capacitor bank at about 4 kJ exploding some steel wool inside an acrylic enclosure. This is one TV news coverage of the Cosmology Gallery opening.

Rotary Presentation 2010
I now have a reasonable Powerpoint presentation which includes various videos and animations which I presented to a group of around 30 Rotarians. Followed by a brief demo of the briefcase Tesla coil.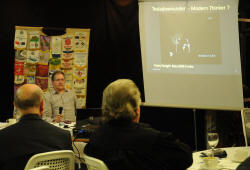 (click to enlarge)

Home Open Day 2010
This year (March 20th) I got in the pool and also exploded watermelons.
Future plans 2006
In public displays I would like to have a big vortex generator mounted on a trailer on a swivel mount so it can be fired. Perhaps hired out. No major public liability issues with this one unlike high voltage stuff where it would cost me $1500 premium for 6 Tesla shows for the standard $10 million cover.

Big Day Out (Syd Klinge's coil on tour in Australia Jan 2005)
The Big Day Out is a rock concert that tours major Australian cities with over 40 , local and international bands. One of the side attractions (the main one for me) was Syd Klinges's 'Cauac' 16 foot coil running at 100 KVA. I was fortunate enough to meet Syd and his entourage and discuss coil details. He runs from a portable generator rated at ?170 KVA 3 phase ?480 V using if I recall correctly one 11 KV pig for each of the 3 phases each individually ballasted. The out put is rectified using over 1000 1N4007's to DC then through an RF filter to the base of the coil and the spark gap which is ARSG using 1/2 inch tungsten electrodes. Tank cap was two 0.1 uF custom made units. Resonant frequency is 59 kHz. The secondary is 10 feet tall and 16 feet total height. The winding is crosslinked PVC coated. Toroid is chicken wire covered.

(click to enlarge)
Some shots of the day with attendance 44,000 in Melbourne.
Big Day Out (Carlos' twin coil on tour in Australia Jan 2006) This year the BDO featured a show by Carlos who has Lightning for Hire in New Zealand. Carlos has previously done performances with a single coil (review here) with the performer in a conductive suit standing on the coil. For the first time at the BDO he used twin coils with duelling professional performers for a very impressive show. I imagine it is a world first as well and has now been seen by well over 100,000 people.
The performance starts with the two performers performing some gyrations with streamers coming off their extremities. Then they bow towards each other and the spark forms between their two heads perhaps 10 feet apart. Later they use metal staffs in a mock battle with sparks forming as the staffs are pointed at each other.

The power (12 kVA) is from a portable generator and he has a homemade transformer running 22 kV and a .07 uF mylar capacitor (for all of you 'mylar is hopeless' types). Coils are about 8 ft by 18 inches with a small steel corona ring attached to an aluminium plate that the performer stands on. There are large PVC supports and a PVC ladder.

Carlos said that he was working on a 25 kVA DC 3 phase system with charging reactor but he blew some expensive HV diodes and was reluctant to use a potentially unreliable system for the BDO.

The suits are made of fine steel mesh and butchers chain mail gloves are used.

All in all an impressive show (and the music was good too)

Big Day Out (Carlos' twin coil on tour in Australia Feb 2011)
Carlos who has Lightning for Hire in New Zealand has now done the BDO for 8 years and has done shows in Europe, UK and Japan.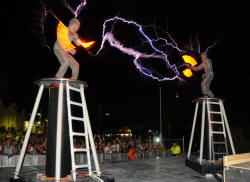 (click to enlarge)

Tesla Exhibition 2006 (from Tesla Museum Belgrade)
This was held at the Western Power World of Energy Museum and has a wealth of Tesla related historical information and models. This is the first visit for the exhibition which will go on and visit Strasbourg, Vienna, Vancouver and Paris.
The Tesla coil above from the new travelling display is a very old style coil with glass plate caps and a serrated wheel gap. It wasn't a great performer despite the Serbian Orthodox blessing.
A good crowd included many Tesla Forum members and various VIP's. There were various models including the Wardenclyffe tower. The extensive bilingual posters and graphics were included in full in a 60 page booklet
Replica models included the first AC motor, bladeless turbine and Egg of Colombus. The egg display uses 415 V 3 phase power of 15A. The last photo is a 1/6 sec exposure to give an idea of the speed of precession.
Tesla Play 2006
A one man play on Tesla with Frank Tabbita performed at the local Uni. The play was a superb acting performance. How anyone remembers a whole performance I find hard to conceive (I have trouble remembering phone numbers). A dynamic and memorable depiction of Tesla's life.
I took some photos with permission from Jeff, the technical manager who was keen for ideas to incorporate HV into the performance. Audience was about 500.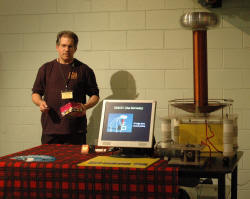 (click to enlarge)
I had a static Tesla display there with my 4 inch coil and a powerpoint slideshow on the computer. Unfortunately I couldn't get reasonable public liability insurance so could not run the coil. Best quote for insurance of $10,000,000 was AUD$1500 for 6 performances in a year, so not really feasible for me to have a running coil. As an aside, the observant of you may notice that the table cover above later became the diaphragm of my vortex generator!

This page was last updated April 10, 2011