Topics on this page include high voltage effects:
| | |
| --- | --- |
| | High voltage 'antivirus' protection |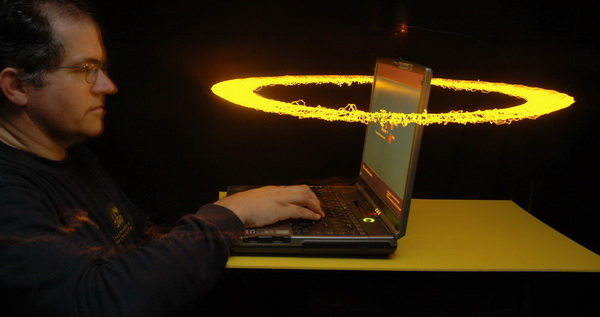 (click to enlarge)
The photo above shows a golden ring of 60,000 volt sparks around my laptop. I reckon it looks like one of those rings of power around a World of Warcraft character protecting it. From what? Viruses of course. Hence "High voltage antivirus" - for PC or Mac.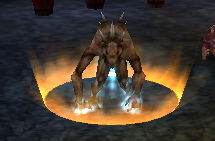 And I have other versions...
The photo above shows that it also comes in a flame colored 'lite' version. The high intensity professional version is on the right.
Note that as in all my photos there is no "photoshopping". The pictures are all single shots and effects are produced with long exposures. Here's how.
The left photo above shows the ZVS flyback supply driving a 4 stage CW multiplier. It is capable of 5 inch sparks but shown here with half that. The center and right photos show how the rotating setup swings the sparks in a circle around the laptop but not too close to my face (just). The center terminal is earthed and is relatively safe. The 'hot' electrode is closest to my face. There is a bit of motion blur in the main photo because the sparks started just in front of my face. They are very loud and bright and it is hard not to reflexively blink and pull back a bit even when you are expecting it. Being close to DC voltages gives a spooky feeling as the ionic wind blows on you and your hairs stand on end as they charge up. As the spark moves these feelings move across your face.
To create the main picture the following sequence is used.
1 The rotating electrodes are turned on. The shot is done in darkness.
2 I trigger the 10 second camera exposure using a remote control. The indirect flash goes off and this provides a natural color background to give normal skin tones.
3 The orange filter is put in place (colored acrylic held in front of the lens). Everything from now on will be orange ie sparks and computer screen, complete with orange shadows and reflections.
4 Sparks are turned on and remain on for the duration of the 10 second exposure during just over a full rotation of the electrodes.. The sparks now orange will be added to the exposure.


Pass4sure offers guaranteed 646-204 training resources with complete range of 1Y0-A17 practice questions and PMI-001 exam dumps.